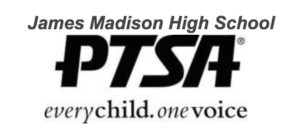 Membership in the James Madison Parent-Teacher-Student Association (PTSA) is an invaluable way to contribute to your child's education and stay connected during high school.  To eliminate the burden of fundraisers throughout the year, we are continuing our "No Fuss Fundraiser". In addition to your PTSA membership, we suggest a donation of $50 per family. Your one-time, tax-deductible donation allows the PTSA to promote the academic excellence and well-being of our students. Specific programs include:
Assistance to Student Activities and Events
Sponsorship of student assemblies and parent education programs
Funding Baccalaureate and Convocation ceremonies
Providing faculty and staff enrichment and appreciation
Sponsoring Ethics Day
Hosting the All Night Graduation celebration
Beautifying the school grounds
The PTSA will provide an electronic directory to all Madison PTSA members. It will be password protected and mobile friendly. For each parent/guardian joining the PTSA, please provide an email address that we can send your unique username and password to, so that you can access the online directory when it is available.
How to join and/or donate:
Mail the form  with a check
Pay online:
PTSA Membership
PTA No-Fuss Fundraiser
Questions? Email: membership@jmhsptsa.org
Thank you for your support!