All Night Grad Celebration
All Night Grad is already making plans for the class of 2023! Tickets and grad signs are on sale now! Please email allnightgrad@jmhsptsa.org if you would like to join our planning crew. All -especially undergrad parents- are welcome.
Class of 2023 Senior Signs
The senior class will be designing their own graduation yard sign for the JMHS 2023 graduates. Order yours before March 15 to guarantee availability! Pick up will be at JMHS in early spring. You will receive an email in March detailing pick up details.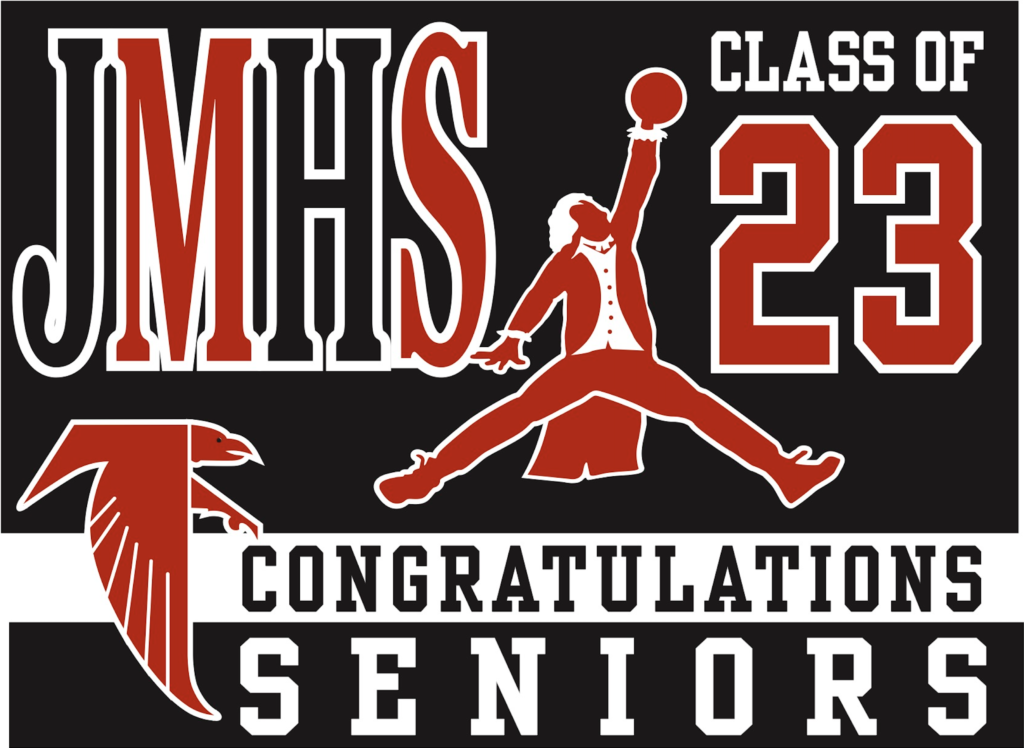 Also please consider donating a yard sign to a senior with financial needs.
Tickets to All Night Grad
What: A safe environment of non-stop entertainment, BIG prizes and tons of fun celebrating the Class of 2023! The All Night Grad celebration is an alcohol/drug free event, sponsored by the JMHS PTSA, and partially funded by community and business donations.
When: Tuesday June 6, 2023 – Wednesday, June 7, 2023 from 11:00 pm- 5:00 am
Where: Vienna Community Center, 120 Cherry St SE, Vienna, VA 22180
Pre-registration is now closed. Walk-ins will be accepted with $100 cash or check (JMHS PTSA) at the Vienna Community Center from 11:00 pm – 12:30 am June 6-7.
Qué: All Night Grad es una fiesta que dura toda la noche en un entorno seguro de entretenimiento continuo, GRANDES premios y toneladas de diversión celebrando la Clase de 2022.

Fechas y horarios: 6 de junio de 2023 – 7 de junio de 2023 de 11:00 p.m. a 5:00 a.m.

Dónde: Vienna Community Center, 120 Cherry St SE, Vienna, VA 22180
¡Regístrese temprano para AHORRAR! (ANG no está incluido en las cuotas para Graduados)
Want to volunteer?  We need you! Join the fun!  Sign up here.
¿Quieres ser voluntario? ¡Te necesitamos ¡Únete a la diversión! email Sarah Espanol at allnightgrad@jmhsptsa.org.