The newly formed JMHS Best Buddies group has successfully increased participation this school year, tripling the number of members!  Many in the group walked in the Homecoming Parade, participated in a 'Match' party, and walked in the Friendship Walk!  This school year, these young adults have raised nearly $4,000 to date!
Best Buddies is life changing for so many people because it brings positivity, laughter, and genuine friendships into people's lives. #Inclusion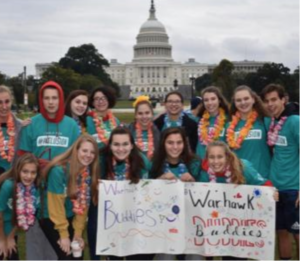 Please join the Special Education Liaisons on Wednesday, November 7th at 7 pm to learn about several inclusive programs happening in Fairfax County Public Schools.  Open to staff and parents!
Featured programs include: Best Buddies, Unified Special Olympics, Camelot Acceptance Team and Buddy program, Frost Unified Special Olympics, Robinson Partnership, Walk in My Shoes, Welcoming Inclusion Network, Plus Inclusive Schools Week ideas
**Refreshments will be served**
Robinson Secondary School Recital Hall, 5035 Sideburn Rd., Fairfax VA 22032
Questions? Contact Joanne at spedliaisons@fairfaxcountysepta.org
Link to Eventbrite to register.